This post may contain affiliate links, which means I'll receive a commission if you purchase through my links, at no extra cost to you. Please read full disclosure for more information.
27 Ideas for Kitchen Wall Decor
Your kitchen is the heart of your home, and it should feel that way. Having an engaging, character-filled space will help your family come together. We've compiled a collection of the top 27 ideas for kitchen wall decor to add character and interest to your home.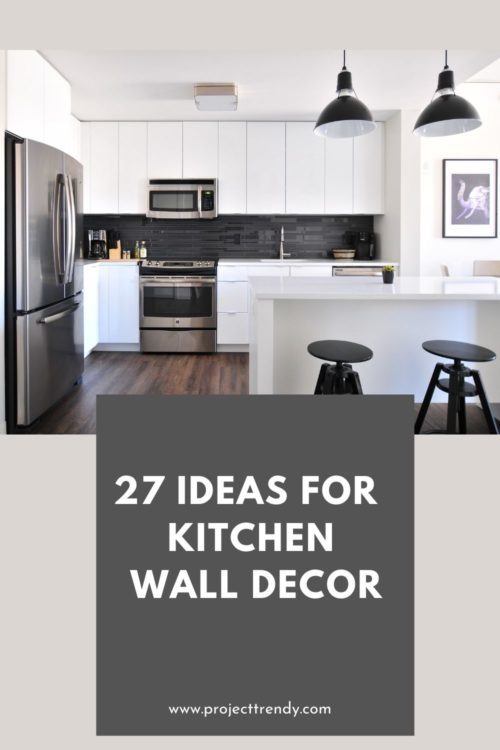 1. Chalkboard Paint
Chalkboard paint is an easy way to create a versatile wall. You can try your hand at lettering with a family calendar, to-do list, groceries, a menu, or all of the above! Involve your kids with a colored chalk bin at a kindergarten-friendly height.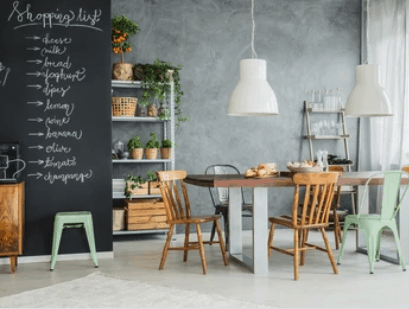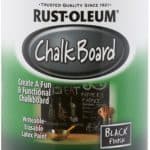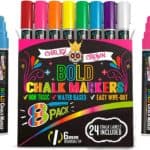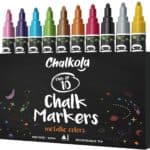 2.  Family Motto
A family motto is a great way to increase the feeling of teamwork in your home. Whether it's printed on a chalk wall or butcher paper, it's a great way to involve your kids.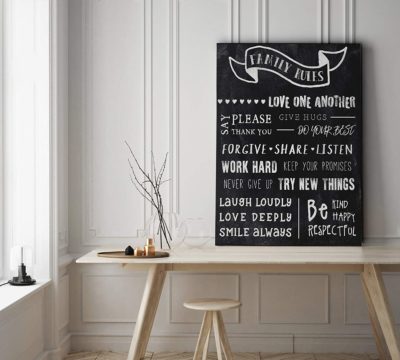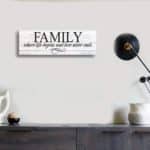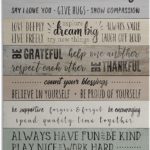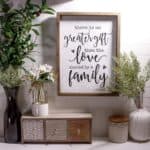 3.  Butcher Paper Dispenser
Butcher paper brings all the customization of chalkboard-painted walls without being so permanent or messy in the installation. You can change up the design any time with no clean-up, just tear it off and pull down a new section.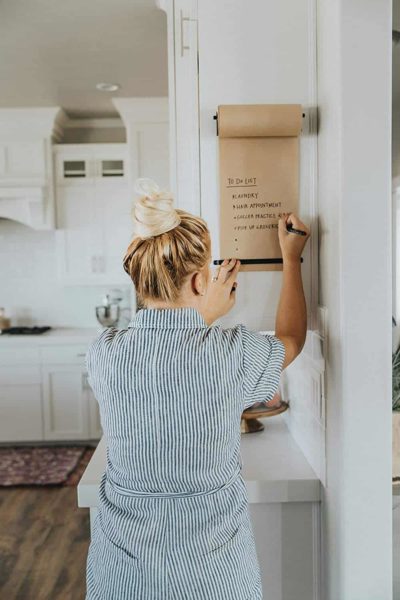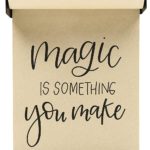 4.  Opening Shelving With Cups And Plates
Exposed shelving isn't only for industrial design! Simple white or natural wash floating shelves with colorful plates or cups makes a great idea for kitchen wall decor. Try local flea markets or second-hand shops to expand your collection.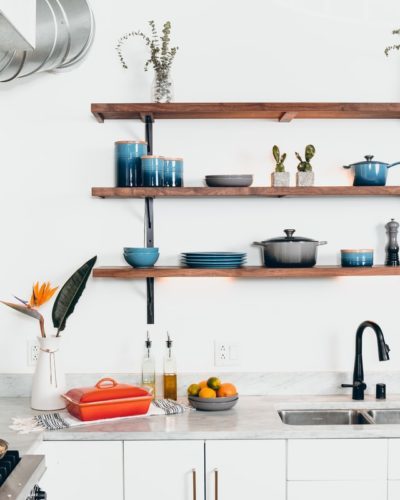 5.  Cute Display With Produce Basket
Pair a little chalkboard or vintage sign with hanging baskets, and you have a classy place to store your produce! Now your bananas can be held separate from the rest of your fruit, preventing your fruit from ripening so fast. You'll also encourage your family to eat healthier when the fruit is out in the open.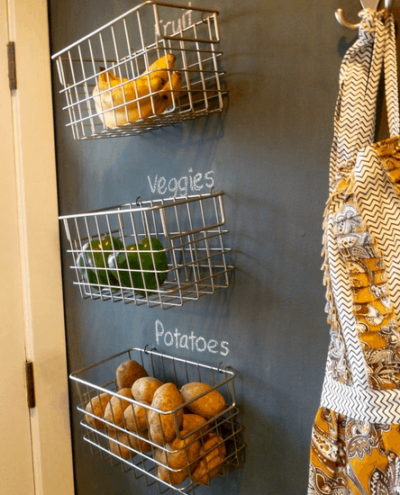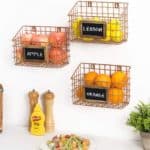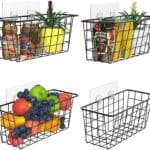 6.  Gallery Wall With Signs Instead Of Pictures
The gallery wall has become a popular staple of interior design. Add your twist on a popular trend and incorporate signs and sayings instead of just a picture or painting gallery.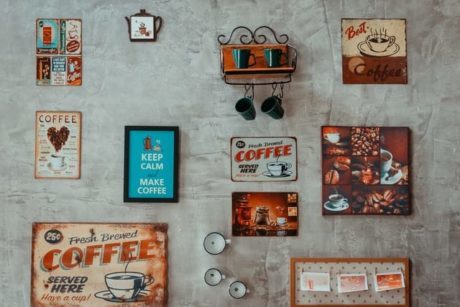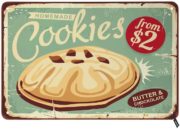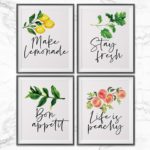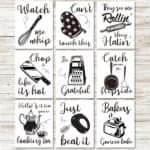 7.  Coffee Bar With Chalkboard Sign And Menu
Dress up your counter with some chalkboard paint! Then design a little menu, line up some mugs with character, and you've got yourself a chic personal coffee shop in your kitchen!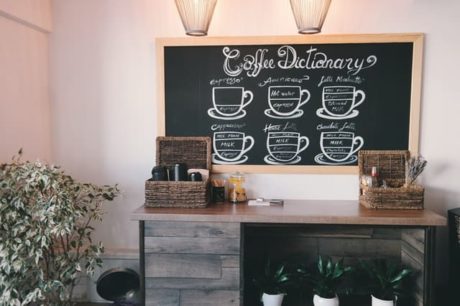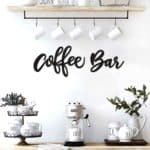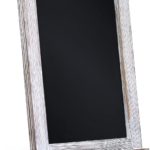 8. Hanging Herb Garden
Bring life to your kitchen wall decor with an herb garden! Not only will this brighten your space with an organic touch, but it will pack a flavorful punch in your next dish. Try basil, parsley, oregano, and mint!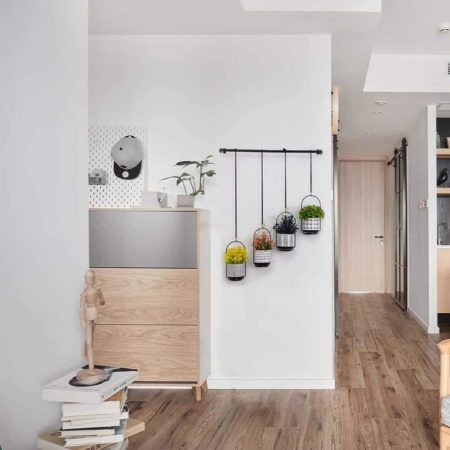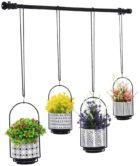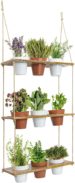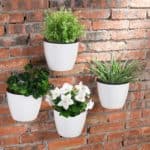 9.  Dried or Pressed Flowers DIY
Dried or pressed flowers have reemerged as a popular DIY. You can order frames with pressed flowers already done, or try your hand at pressing them yourselves in a vintage frame. This is a simple and beautiful idea for your kitchen wall decor.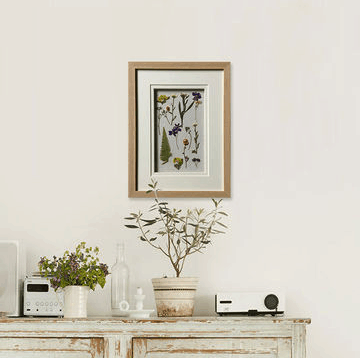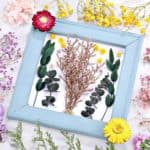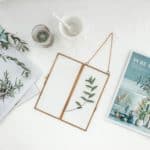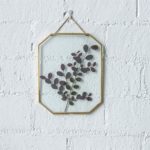 10.  Food or Herb Prints
Whether you're into fruits, butcher-style prints, or herbs, there are various styles of prints for your kitchen wall decor. They can be antiqued, labeled, modern, chalk style– anything you like.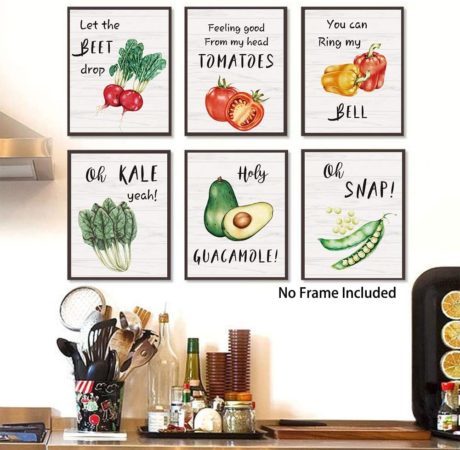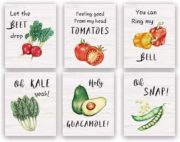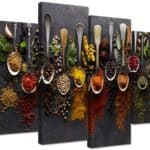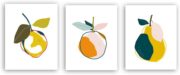 11.  Antique or Industrial Clocks
You can use a collection of clocks or one big statement piece.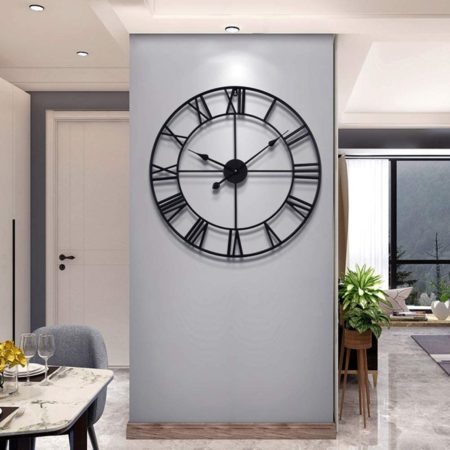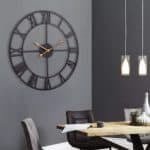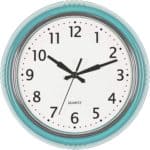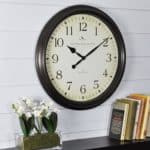 12.  Farmhouse Display
The key to farmhouse decor is distressed paint and wood accents.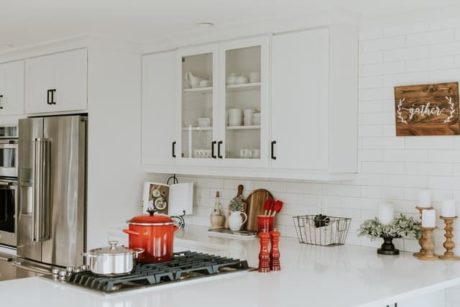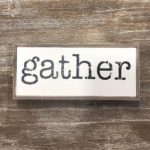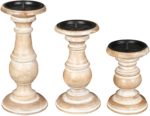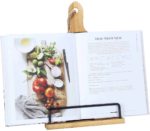 13.  Countertop Containers
Whether your style is minimalist Scandinavian or more farmhouse charm, countertop containers for flour, sugar, or any of your other favorites can add character to your counter, as well as function.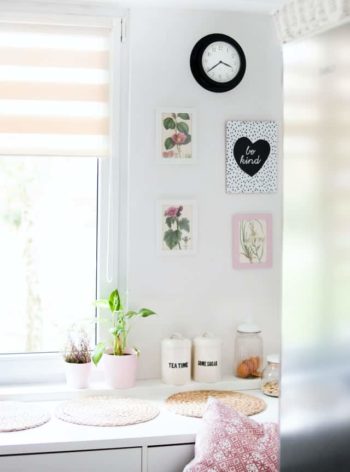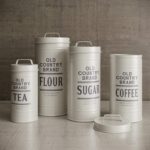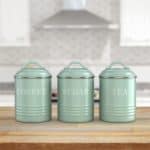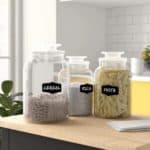 14.  Above Cupboard Dead Space
The space above the cupboards can just be dull and dusty. Add some vintage dishes, cute signs, or greenery to freshen the space.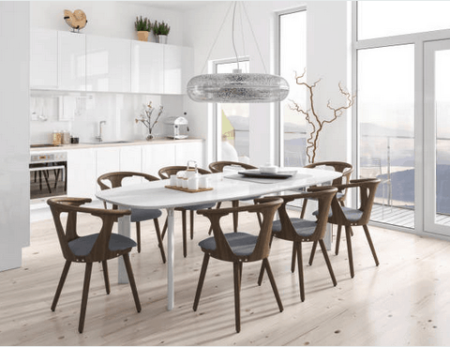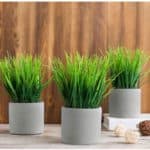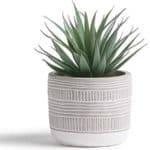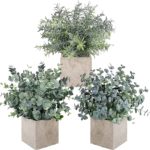 15.  Cutting Board Art
A cutting board display on your kitchen wall decor can be a fun conversation starter. Collect wooden boards in different shapes and sizes, then create a gallery. You can even paint a quote or design on them to customize them to your home!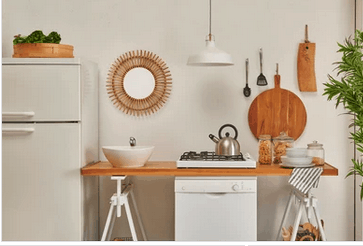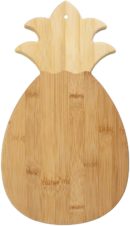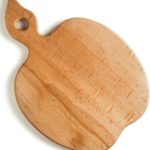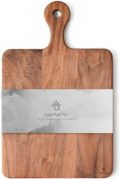 16.  Bring On The Humor!
If your family vibe is more silly and playful, find a way to incorporate some jokes or puns in your kitchen display. Whether it's a pre-designed print or a quote wall, you can find a way to incorporate humor into the center of your home.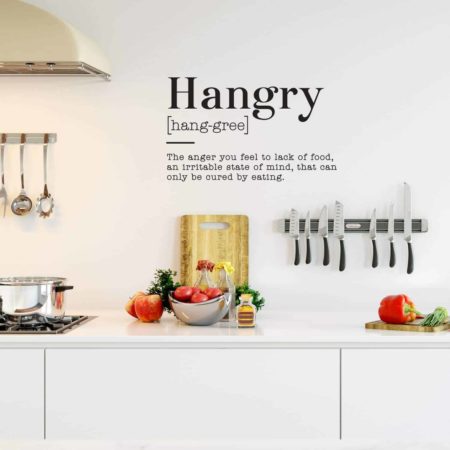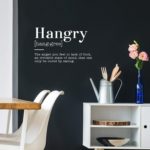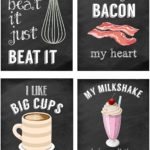 17.  Textured/Unique Curtains
If you're looking for something a little more unique, try out different fabrics for custom curtains. For example, you could try burlap, lace, or any other material.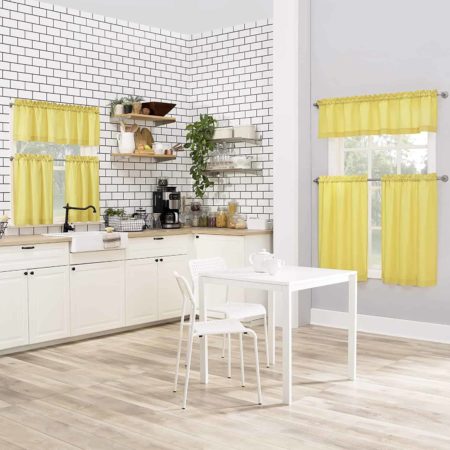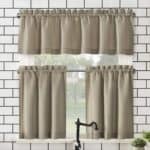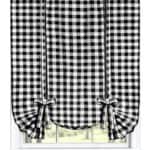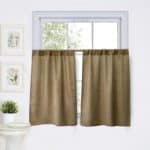 18.  Rustic Menu Board
Everyone wants to know what's for dinner. So cut down on the questions with a unique menu board.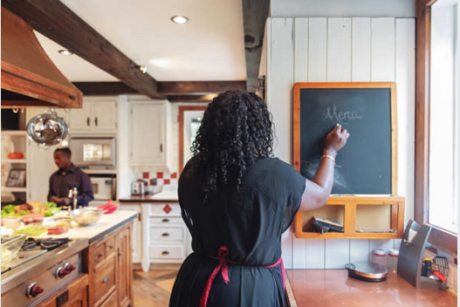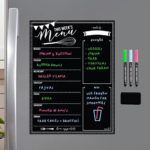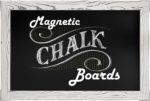 19.  Plate Collection
Whether it's wicker, china, or clay, a plate gallery can be a great way to put your stamp on your home.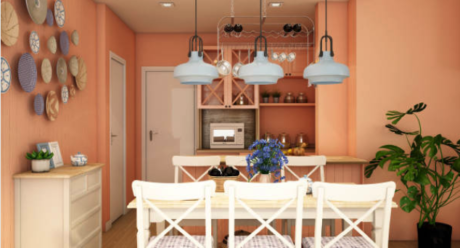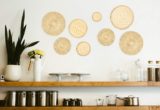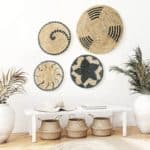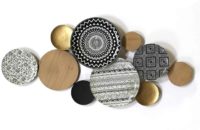 20.  Mug Display
A mug display not only shows your taste but also makes them more accessible. Whether you like a matched set or an eclectic feel, a mug tree or hangers makes a statement.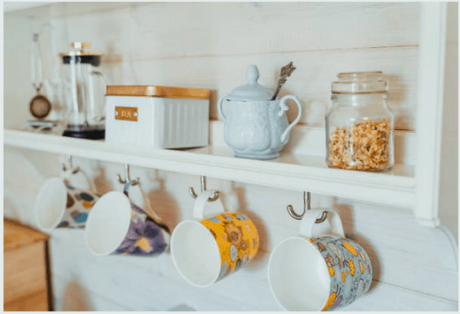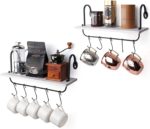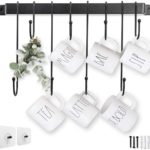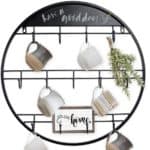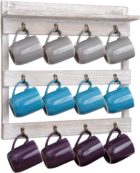 21.  Exposed Brick
Your wall itself can be a decoration! If you live in an older home, you may have naturally antique bricks hiding behind a layer of sheetrock. In a new build or a rental? Try out some brick wallpaper for your kitchen wall decor for a less intrusive DIY industrial look.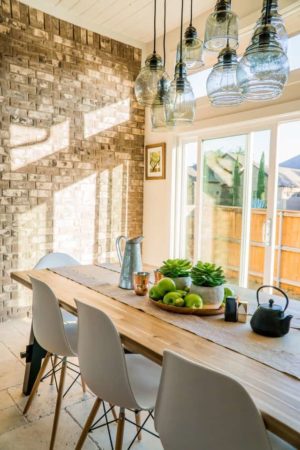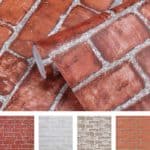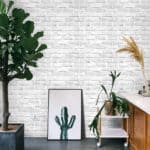 22.  Wine Display/Menu
Any home can be part of wine country, no matter how far from California you are. There are so many fun and creative ways to show off your wine collection with an accompanying menu.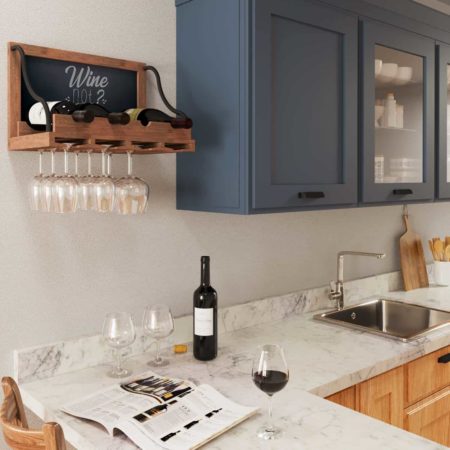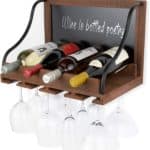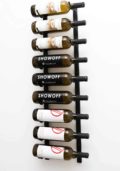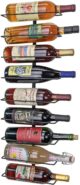 23.  Recipe Display
Add a touch of family history or culture to your kitchen wall decor with favorite or exotic recipes. You can use your grandma's originals or distress the cards yourself. Or maybe you prefer a more streamlined system with printed cards.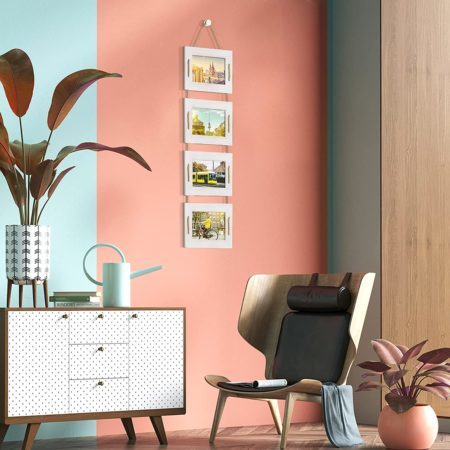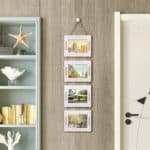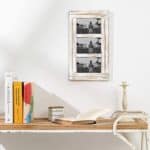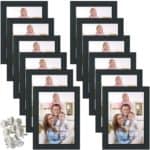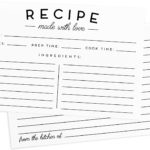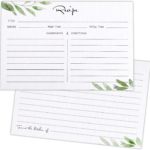 24.  Shadow Boxes
Shadow boxes give you an excellent opportunity to add dimension to your display. Instead of simply framed art, you can add fruit, flowers, antique kitchen tools, or anything else.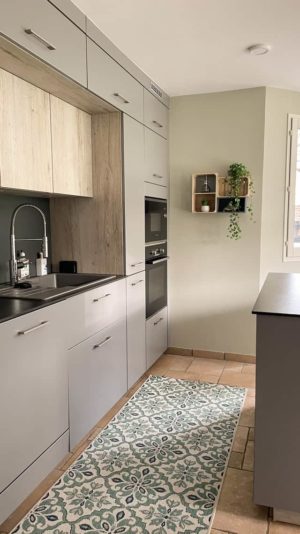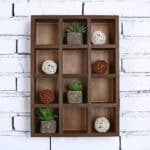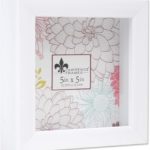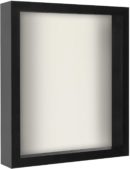 25.  Neon Sign
Neon lights signs are not only for night clubs and office spaces.  It's a fresh and fun decor idea that can add some vibrance to your kitchen wall, plus it can dual as a night light.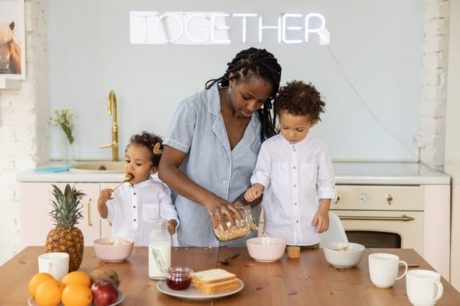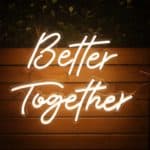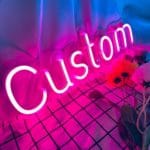 26.  Macrame Shelves and Macrame Plant Holders
Create a boho vibe on your kitchen wall with some macrame shelves and plant holders.  We are loving this big trend with bohemian decor. It offers such a natural and clean look that gives all the good vibes.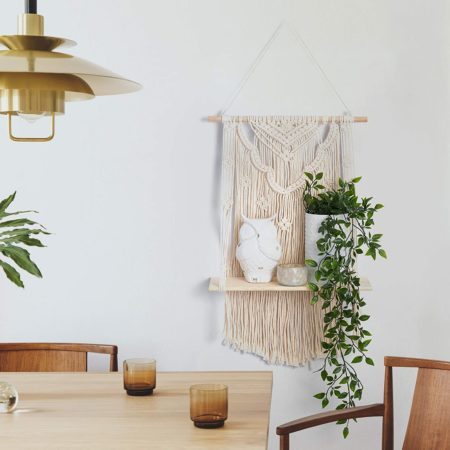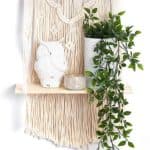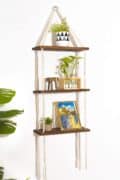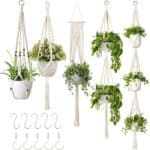 27.  Don't Forget Seasonal
Seasonal decor gives you an excellent opportunity to switch out the usual and try a new take. Every season is filled with possibilities. Every few months just change it up!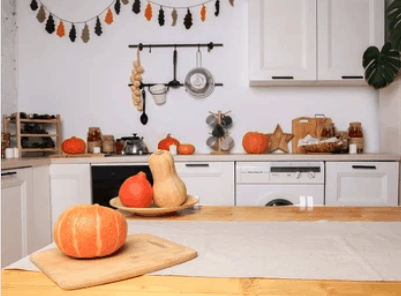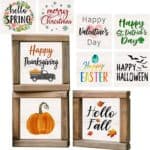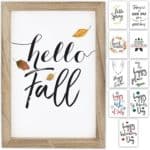 I really hope these ideas for kitchen wall decor inspired you to try one or maybe more with your kitchen wall.  The kitchen is often the hub for families and gatherings, so let's make your kitchen fun and interesting.
xoxo Alexandra
To find more blog posts about home decor check out our blog page here.
Let me know in the comments below if you have tried any of the ideas for your kitchen wall decor. If you have other ideas for kitchen wall decor please share them as well. I'm looking forward to adding more ideas to this list.