This post may contain affiliate links, which means I'll receive a commission if you purchase through my links, at no extra cost to you. Please read full disclosure for more information.
How to Make Edible Flowers in Ice Cubes- Really Easy!
Summer is finally here and so are the outdoor parties!! Whether you are preparing for a birthday party, tea party, summer party, or any kind of party or gathering really, consider adding some pizzaz to your drinks with edible flowers in ice cubes. Who doesn't love pretty ice cubes, right?
Yes, I said pretty ice cubes.  Ice cubes that have a little something added to them for decor, such as edible flowers, herbs or fruit, is such a fun idea and a simple DIY. It's a great way to add a touch of decor to your party that your guests can see the entire time (since most people have a drink in hand).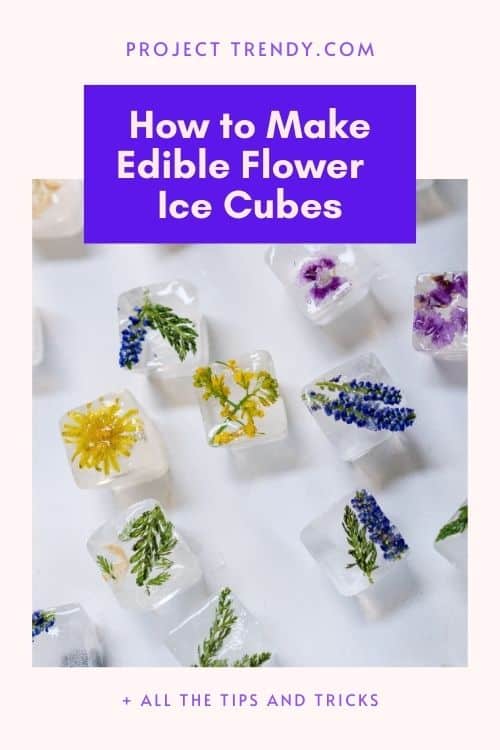 How Do You Make Pretty Edible Flower Ice Cubes?
Simple! Just follow the instructions below.
Be sure to have on hand:
Ice cube tray (it's a good idea to use 2 or more)

Edible flowers ( such as roses, dandelions, lavender, violas, orchids and pansies)

Water
How Can You Get Clear Ice Cubes?
People often ask how they can get clear ice cubes to display the flowers better? If using tap water (which makes ice cubes appear cloudy), boil the water first, let it cool and then boil it for a second time and let it cool again.  Use this water for your ice cubes.
You can also use distilled water (you can buy some at your local grocery store or pharmacy).  I do suggest to boil it once and let it cool.  You don't have to boil it twice. Some people find that distilled water alone, without boiling it, works as well.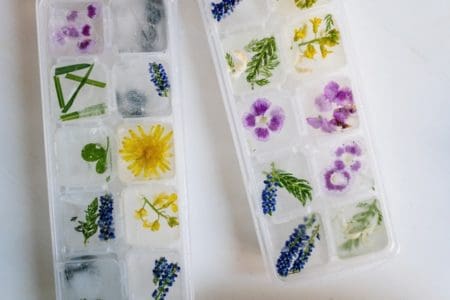 INSTRUCTIONS:
Step 1: Grab your ice cube trays.  You can go with a regular ice cube tray but I prefer a deep ice cube tray or even something cute and trendy like a heart shaped ice tray or star shaped or whatever goes with your theme. You can check out Amazon for some really cute ice cube trays, like these one here:
Step 2: This is your choice of what you would like to put inside your ice cube.  We are talking about fresh edible flowers in ice cubes but you can also have pieces of fruit, fresh herbs or dried flowers. Just make sure what you choose is safe and edible.
Be sure the pieces you are using are an appropriate size, the goal is to add a touch of colour and fun to the ice cubes. 
Tip: Be cautious of heavy flavour or fragrance as it can alter the taste of the drink (unless you know the flavour will work with the drink).
Step 3: Lay your edible flower in your ice cube tray and pour water to fill the sections half way. Then put them into your freezer (for 12-24hrs). Filling half way allows your floral decor to be in the middle of the ice cube.
Step 4: Fill up the rest of the section (of the ice cube tray) with water and freeze.  Allow for another 12-24hrs.
Step 5: When it's time for your event, pop out the ice cubes and add them to an ice bucket or place them inside each glass as you pour your guests their drink.
Step 6: Enjoy! But really enjoy your guest's reaction to that special floral decor you added to their drink.
Tip:  These pretty ice cubes work best with light coloured beverages, as they will be noticed more.  You can also add more fruit to your drinks to add something extra as well.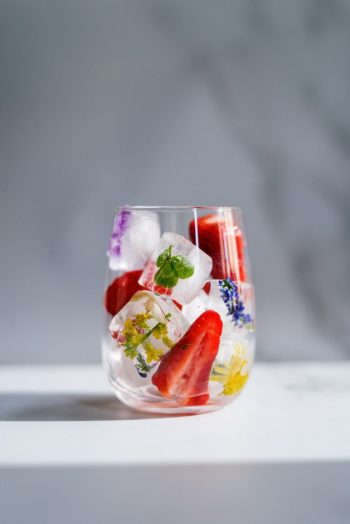 How long do Edible Flowers in Ice Cubes last?
I would suggest using them within 2 weeks of making them.  The flowers will lose their bright appearance and taste.
A Simple Drink Suggestion For Edible Flowers in Ice Cubes:
A drink idea which works with these fancy edible flower ice cubes is:
1/2 can of Cherry Bubly (or any flavoured sparkling water)
1/2 can of Ginger Ale (for sweetness)
1 tsp Fresh Lemon Juice
Optional: add 1oz Peach Schnapps and 1oz Vodka
Optional: Cut up some lemon and lime slices or Strawberries (if they are in season)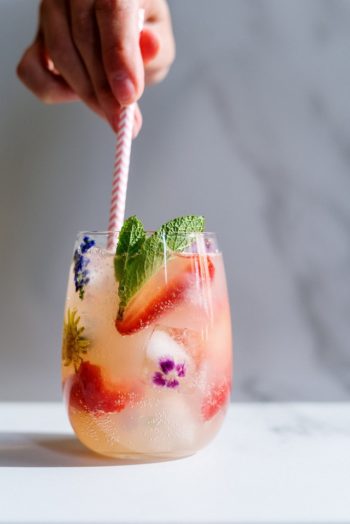 I hope you enjoy making these beautiful edible flower ice cubes, they are such a fun and easy DIY.  I truly love that are there are so many simple and easy ways to add a touch of fun and prettiness to any outdoor party decor.  Have a blast at your party and we will talk soon.
xo Alexandra
I would love to hear from you. Have you tried edible flower ice cube decor before? If so, do you have other suggestions or ideas for the inside of the ice cube?