This post may contain affiliate links, which means I'll receive a commission if you purchase through my links, at no extra cost to you. Please read full disclosure for more information.
All About Pampas Grass Decor
Have you seen the big decor trend that is happening with Pampas Grass right now? It is amazing!  I LOVE Pampas Grass!!  It is so fluffy and whimsical and can add such a beautiful flair to any space. 
The cool thing about Pampas Grass is that it can work with any style.  You can use it with a rustic farmhouse theme, a luxury modern home or you can create the ultimate bohemian feel with these dried florals. 
We are seeing Pampas Grass decor being used in more ways then just home decor. We are seeing it in wedding decor, including wedding bouquets, as Christmas Trees and even door wreaths.  I am all for the Pampas Grass Decor.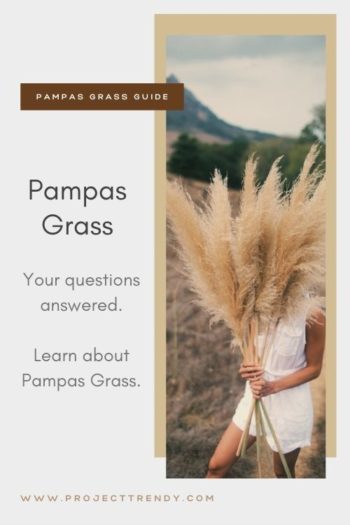 So What Is Pampas Grass?
Pampas Grass, also known as Cortaderia Selloana (C. Selloana), is a large perennial that is native to the Pampas region in South America (Argentina, Brazil and Uruguay).  It was also planted in other parts of the world like North America, Europe, Australia mostly for ornamental purposes. There are about 25 species of C. Selloana but they are collectively referred to as Pampas Grass.  It is actually considered an invasive weed in New Zealand and Hawaii.  Pampas Grass can grow to be 5 – 12 feet tall and up to 6 feet wide.
It is a very adaptable plant that can propagate in a wide range of environments.
When Does Pampas Grass Bloom?
The season for Pampas Grass is September to February. However, you can generally find it all year round.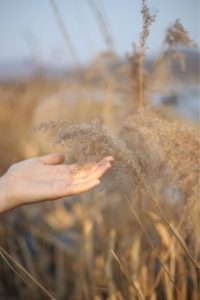 What Colour Is Pampas Grass?
There are a few varieties of colours such as beige, white, silvery white and pink.  However, it is possible to spray the plumes to your desired colour.
Where Can I Buy Pampas Grass?
You can buy dried Pampas Grass from your local floral vendors or online from Amazon, Etsy as well as online floral shops. It is so popular right now I feel like it's everywhere.  You can buy tall pampas grass, short pampas grass and if you're lucky you can find really cool bouquets or awesome bundles like the Alfa Life Brand that sells tall pampas grass with the super popular wooden bead garland.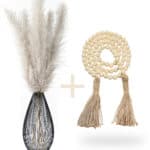 Is Pampas Grass Expensive?
Depends where you are looking and what kind of pampas grass decor you are looking for. I found that floral shops were charging around $20 a reed for tall pampas grass and about $20 for 5 small reeds. You can also find some good quality pampas grass on Amazon that is more cost effective.  My favourite deal is the Alfa Life Pampas Grass with Wooden Bead Garland (photo linked above).
How Do I choose The Right Pampas Grass To Buy?
Be sure to pick pampas grass that are tall and healthy looking.  The plumes should be fluffy and full.  The fuller the better since pampas grass sheds and you will lose some volume (follow my care instructions below to minimize shedding).
If you prefer to not have the real natural, dried pampas grass you can always opt in for the artificial pampas grass. There is no shedding and it lasts forever. The only thing with faux pampas grass is that it is not fluffy or as full as the real one.  They can look really flimsy and cheap. So be sure when looking to buy the artificial pampas grass you can find ones with 20+ forks that are re-enforced so they don't fall out or look flimsy.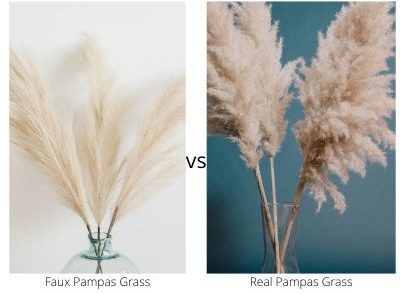 How To Care For Pampas Grass?
Pampas Grass is a dried floral and does not need to be watered.  It is quite low maintenance once it's been conditioned properly.
Step 1:  Be sure to open your Pampas Grass reeds outside, otherwise it will get messy (I am not kidding you). 
Step 2:  Hold each reed at the base of the plume and give them a gentle shake (if you shake too hard it can break the reed).  Allow for the natural shedding to occur. As you shake you will notice the reeds start to open and fluff up slightly.
Step 3:  Allow the reeds to sit in sunlight for 2-5 hours to help open and fluff the grass (you can put them in a vase or lay them down). Tip: I like to give the reeds 24hrs to settle before moving to Step 4.
Step 4: Next, this is very important, take the reeds outside and give a gentle shake again and allow the grass to open a bit more (you can open and fluff them by hand gently).  You can also try using a hairdryer on a low heat setting. Spray each reed with a firm hold hairspray or flower protectant.
Step 5:  Now you can arrange the reeds in your vase (shorten if needed with garden shears) and Enjoy!
Tip: To keep clean and maintain the health of the pampas grass, every 4-6 months take the reeds outside to shake off dust and reapply the hairspray or floral protectant, if needed.
Check out "How to Care for Dried Pampas Grass" post for more information on caring for your Pampas Grass decor.
How Long Does Pampas Grass Last?
Keep your pampas grass in a vase and it should last you 3+ years. With proper care as mentioned above it will last you a really long time.
How To Decorate With Pampas Grass In Your Home?
Like I mentioned before you can add pampas grass to any style.  It can add a boho vibe, a touch of luxury or even a farmhouse, rustic feel.  It is so versatile which makes it easy to add to any space in your home.  I have added pampas grass to my bedroom, living room, office.  A front entryway is a great place to add some pampas grass or even a guest washroom.  As a bonus I will sometimes take out some small pieces from the bottom of the plume to add to smaller vases or other floral arrangements.  These smaller pieces can work on a side tables, a shelf or office desk.
See some arrangement suggestions in the post "How to Care for Dried Pampas Grass".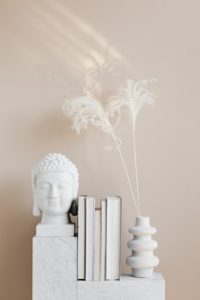 What Are The Best Vases For Pampas Grass?
The key to finding the right vase for your pampas grass decor is all about size of reed.
Length of Reed
Before buying a vase, be sure to check how long the reeds are on your pampas grass, that will help to determine the right height for your vase. 
Opening of Vase
The other thing to consider is the size of the vase opening.
Opening for Larger Reeds:
I aim to find a vase with a opening that is about 1-3" wide, it really depends on how many reeds you want in the vase.  The tighter the opening the less the reeds with flair open; in an 1" opening I can fit 6 reeds tightly or 3 comfortably.  You can also just use one reed for a more eye-catching focal point.
Opening for Smaller Reeds:
For smaller reeds you can use vases with openings that are 0.5"-1" wide.  A more narrow mouth will hold the reeds better and give the arrangement a fuller vibe.
Styling Bonus
For an additional styling bonus, add a wooden bead garland around the base of the smaller vase or place loosely on a nearby surface such as a table, or around other decor pieces, or on a decorative serving tray.  You can add the beads to the neck of a tall vase or around the base of a candle. Just be creative and have fun with it!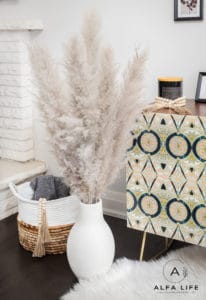 The thing about Pampas Grass is that it's a trend that keeps trending.  It really gained some popularity back in the 70's and the cool thing about it is that it keeps coming back. I feel like you can't go wrong with adding this fun floral to your home.  It's simple and airy and creates a whole vibe on its own.
Try it out and let me know where you have added your pampas grass decor in your home.
Talk soon,
Alexandra