Project Trendy: My Home Renovation Part 1
This post may contain affiliate links, which means I'll receive a commission if you purchase through my links, at no extra cost to you. Please read full disclosure for more information.
Happy New Year!! I'm so excited for 2022 because I just started a big new project. A house! My husband and I bought a house at the end of 2021 and we have started our home renovations.  What we thought was going to be a simple home renovation, of changing what is old to new, became a bigger reno and we are here for it!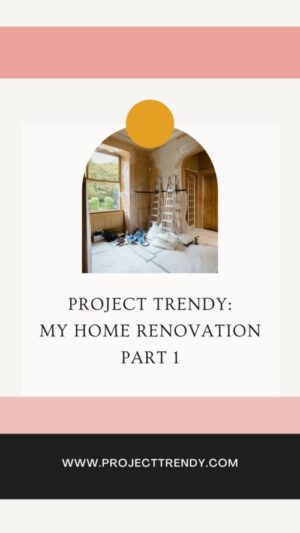 So some details about the house.  We bought a raised bungalow and if you know me I absolutely love bungalows and side or back splits, maybe it's because I don't care for a billion stairs or maybe it's because I have a half dachshund dog (who is old) and I prefer him not to do so many stairs. But whatever the reason, I love bungalows and buying a raised bungalow is such a score! It has a separate foyer when you walk in and then 5 steps leading you up stairs and then 7 downstairs. 
The house is a 3 bed, 2 bath (1 upstairs and 1 downstairs) which we will turn into a 3 + 2 bed (we are adding two bedrooms downstairs).  Plus we will be adding a bathroom.  We got pretty creative and actually turned the one big main bathroom upstairs into 2 baths (a main bath and a primary bath).  Also, luckily for us our house has 2 bedrooms that were similar in size so we could pick which would be the new primary, since we were adding a primary bath.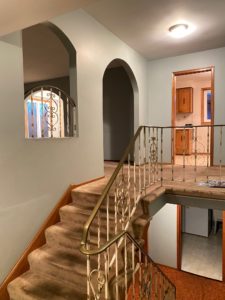 Looking up to main floor from foyer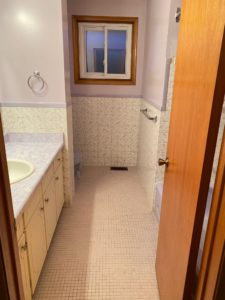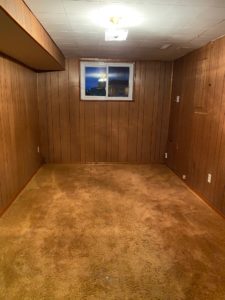 Downstairs room with wood panel which will become a bedroom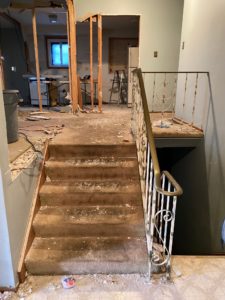 Foyer to main floor in demo mode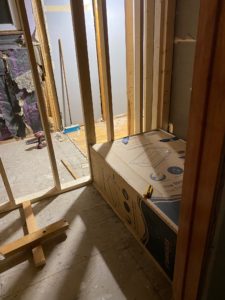 Main bath was divided to make 2 equal size bathrooms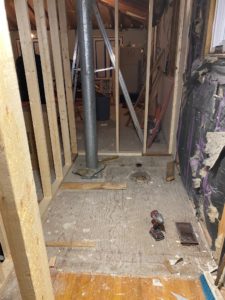 We took out the closet of the now designated primary bedroom and opened it to connect to where the main bath is (which was divided to make 2 bathrooms)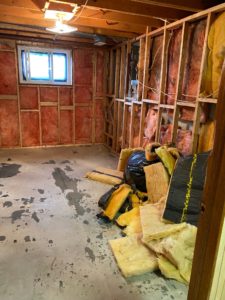 Downstairs demo. Goodbye wood panelling.
Our house is an older house, so the bedrooms are on the smaller side as are the closets.  I wish this house was a 4 bedroom house, because I would have loved to have made a big primary retreat by taking out one of the bedrooms but since we need at least 3 bedrooms upstairs it was no-go on making a bigger primary bedroom.
Unexpected Surprise
The other thing we did that we didn't expect to do with this home renovation was vault the ceilings. My husband, who is a contractor, checked the attic the first day we took possession and noticed that we could raise the ceilings. Once it was confirmed by our architect, the ceiling was ripped down.  I cannot believe the difference it makes to have the high ceilings.  Granted there is no drywall on yet so the whole space is open and looks big but I can imagine what it will look like when the ceiling is on and it feels grand.  SO thankful for this happy surprise, this will make our house more unique compared to other homes that we saw.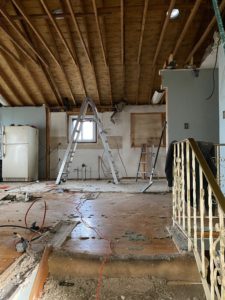 Looking up from the foyer to the main floor with new vaulted ceiling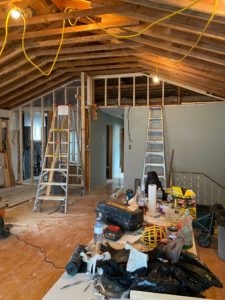 Vaulted ceiling view from living room looking towards kitchen and hallway
We have done so much already!
We literally have had this house for a month and half and we have done so much! The house was demo'ed down to the studs. We painted the exterior of the house, not the red brick, but the 2.5 sides of the house that have siding.  Our windows were painted from white to black and we painted our back shed as well to match the siding colour of the house. I painted our back concrete patio (first colour was terrible it came out blue not grey so I had to repaint it.  Now it's more grey but that blue is still trying to creep out).  I had plans to paint a design on the patio but it got wayyy to cold to function outside.  We also planted a bunch of new cedar tress and took out all the dead bushes and trees, which was a lot of work but worth it because the backyard feels so much bigger now.  The electrical and plumbing has all been redone.  We upgraded our HVAC system and our water heater.  Everything is new and efficient and it feels soo good!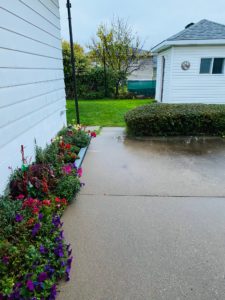 Original Backyard Landscape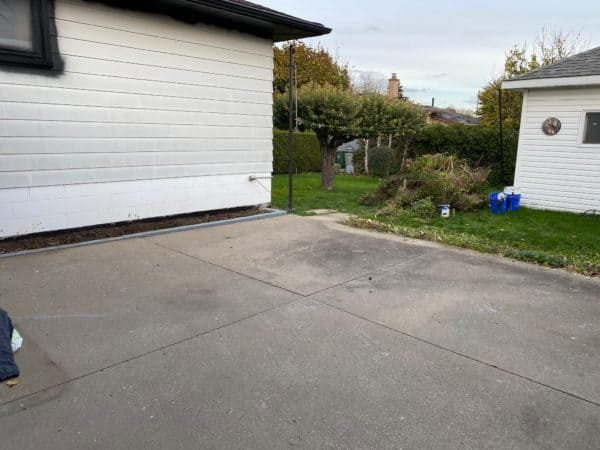 Cleared up the flowers and bushes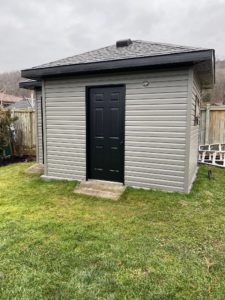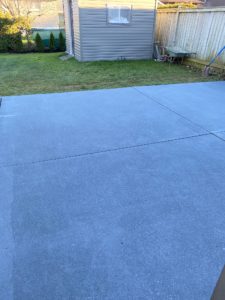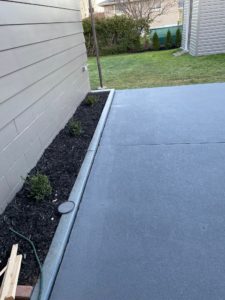 Looking forward to what's next
I'm looking forward to the next coming weeks where we will be insulating, spray foaming and drywalling.  We are still waiting on getting quotes for my kitchen millwork, my rec room bar and laundry millwork and my main bath vanity. I still have a bunch of stuff to source for our house such as appliances and light fixtures but it's coming together. 
I am so thankful to my husband and my dad for all the work they are doing and for putting up with me and all my ideas.  Also, I am so grateful for my husband's trade friends who have been such a huge help with our house and our realtor who is a constant support. 
Stay tuned to Project Trendy for the next house updates.  This reno is keeping me busy but I am trying hard to document as much as I can. For some of my other projects check out my blog page here.
Thanks for reading! Talk soon,
Alexandra
If you have any questions or suggestions for my home renovation project drop your comment below.  I appreaciate your feedback.